Frequently Asked Questions
You can climb, run, walk or bike to ascend the height of Everest for your Summit Challenge. If climbing's not your thing, we challenge you to get creative in reaching 8848 during March. In 2018, Summit Challenge participants read 8848 pages, skied up 8848m, climbed 8848 stairs, and one person even pushed a sled with their own body weight a distance of 8848m!
You can complete the Summit Challenge by yourself, or share the Challenge between a team.
You can complete the Summit Challenge any time during March 2019.  Go hard out and tackle it in one weekend, or spread the challenge over the month.  It's up to you!
With your help, we're hoping to raise $150,000 through the Summit Challenge this year.
The money you raise will help build earthquake-resistant water systems which will provide clean drinking water to homes, irrigate crops and protect communities in case of fire.  Your support will help give children in the Himalayan region the best possible start through quality education, opening up new opportunities in their future.  And by taking part in the Summit Challenge, you'll be providing life-saving healthcare for mothers and babies in remote mountain villages. 
For more information about the work you are supporting, visit www.himalayantrust.org
Here are our top tips for getting the most out of your fundraising:
Personalise your page. Add a photo and tell people why you are raising funds for communities in the Everest region of Nepal.
Aim high when setting your fundraising target - it actually encourages people to give more!
Make sure the first donation is a good one. This will set the trend for your fundraising page. You might want to ask your most generous friends or family members to make the first donation - or make it yourself!
Share with all your friends, family and colleagues. You'll be surprised how many people want to support you.
Remind your friends by email two or three times. With our busy lives, no one minds a couple friendly reminders!
Keep people updated on your progress – people will be inspired to support you when they see how hard you are working!
Thank everyone who has supported you. Let them know their donation has been noticed and appreciated. Thank them by email, social media or send them a thank you message through your fundraising page (see below).
If you are close to reaching your fundraising target, increase it! If people think you are close to meeting your target, they may not donate as much.
Both! While social media is great for sharing updates with your friends, research has shown that email is still more effective at generating donations.
Here are some suggestions for making your email asks effective:
Make it personal. Tell people why you are raising funds for the people of Nepal.
Always include a link to your online fundraising page in your emails.
You can also use social media to:
reach out to your friends and family and ask them to make a donation.
keep your friends up-to-date with your progress – including photos.
share updates about the Summit Challenge.
thank your supporters by posting a message on their Facebook wall.
The first 150 Summit Challenge participants to start fundraising will receive a Summit Challenge T-shirt, thanks to our sponsor Kathmandu.  We will send out the T-shirts from mid-February to participants who have received at least one donation on their page. 
You can track your elevation on your personal fundraising page, so you can monitor your progress towards 8848m.  The elevation tracker will go live on 28 February. 
If you are planning to use Strava to measure the metres you climb, you can connect your Strava account directly to your fundraising page (see below) and your elevation for each climb will automatically be shown on your page.
Alternatively, you can enter your elevation manually for each climb, by posting a fitness update on your page.
Login to your fundraising page here
Under Post An Update, click on the Fitness icon
Enter the total elevation for your workout.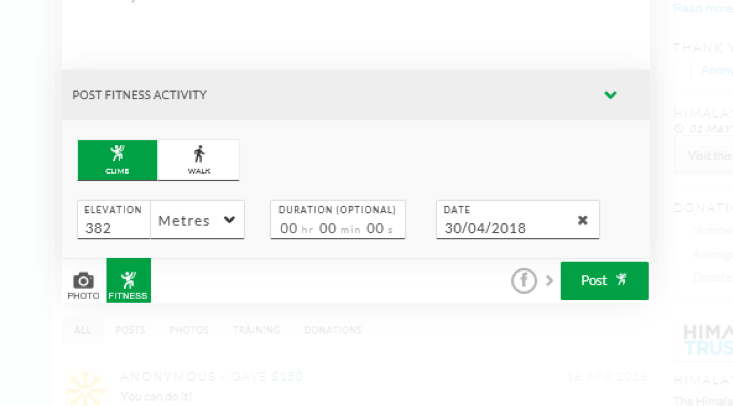 As you log your climbs, your page will show the total height you've ascended during the Challenge.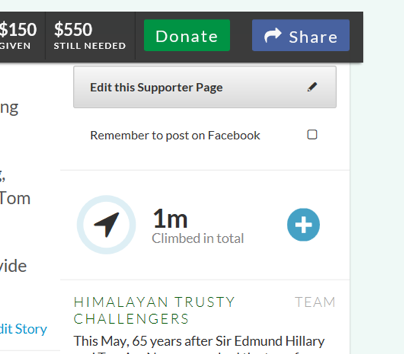 If you are planning to use Strava to measure the metres you climb, you can connect your Strava account directly to your fundraising page (see Everdayhero link here) and your elevation for each climb will automatically be shown on your page.
If you are using Mapmyfitness or Fitbit to track your elevation, you will need to input your elevation for each climb onto your fundraising page manually, using the instructions above.
If you are taking on the Challenge as a team, you'll have the option to create or join a team during registration or from your individual fundraising page after you've registered.
Login to your fundraising page here
Click on the Create a new team link on the right hand side of your fundraising page.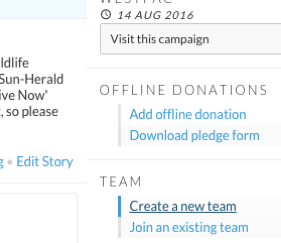 Give your team an awesome name!
After you click 'Create Team' you will land on the new Team page as the team captain. You'll be able to add a Team profile picture and edit other options on the Team Page by clicking the 'Edit this Team Page' button on the right.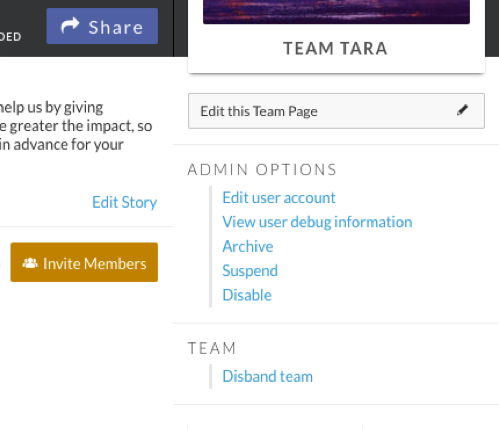 If you wish to invite Team Members to your Team who haven't yet registered for the Challenge, you can do so by clicking the orange 'Invite Members' button and entering their email addresses.
If someone has created a team that you would like to join, simply follow these steps -
Login to your fundraising page here
From your fundraising page, click "Join an existing team" on the right hand side.

Search for your team name and click "Join Team."
An email will be sent to the team leader, who will approve your request!
All Summit Challenge fundraising pages will be open until 30 April 2019, so you can receive donations even after you have completed the Challenge.
You can connect with other participants as well as the Himalayan Trust team by joining the Summit Challenge Facebook group.  We'll also be organising group climbs around the country during the month.
Of course – and we're happy to help you put together a press release or contact your local media!  If you'd like help, get in touch with us at info@himalayantrust.org or 0800 786647